DJ Colin – DJ/Emcee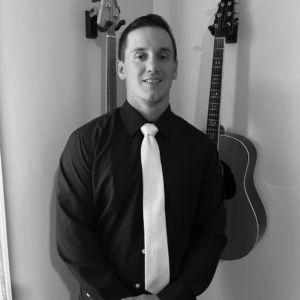 Meet DJ Colin, a musical virtuoso whose lifelong love affair with music has propelled him to become an extraordinary DJ, known for creating unforgettable musical experiences that bring people together.
Early Sparks of Passion
From an early age, DJ Colin found himself drawn to the captivating fusion of music and lights, spending his weekends at the local skating rink. It was there that he first witnessed the magical power of music to unite people and create joyous memories.
Nurtured by Melodic Memories
Colin's parents, recognizing his deep connection to music, introduced him to concerts from the moment he could remember. Those early concert experiences instilled in him the knowledge that music would be a lifelong companion.
From Guitar Enthusiast to Bass Prodigy
Transitioning into his teenage years, Colin began taking guitar lessons, nurturing his innate musical talents. In college, he ventured into the vibrant world of live music, hitting the stage as a bass player in various cover bands. Over the past decade, he has honed his craft, becoming a masterful live performer.
Crafting Unforgettable Experiences
During his college years, Colin took his passion for music to new heights by transforming his residence at the Football house into a bona fide nightclub. With intricate lighting and a top-tier sound system, he became the go-to DJ for every party. This early experience set the stage for his future as a professional DJ.
The Musical Curator
Colin's friends know him as the guy with the perfect playlist and a speaker always at the ready. His ability to read the room and draw from a vast knowledge of music spanning decades is second to none. His mission is clear: to curate music that resonates with each and every person in attendance, forging connections through the power of sound.
Confidence in Captivating Crowds
Playing in live bands has endowed Colin with an unparalleled ability to gauge the mood of any crowd and take the microphone with confidence. Yet, what he cherishes most as a DJ is witnessing groups of people coming together, singing along, and sharing those special musical moments.
Meticulously Prepared for Perfection
Colin's dedication to organization and preparation ensures that every show or event under his command unfolds flawlessly. Whether he's DJing or performing with a band, his unwavering goal remains the same: to gift people with an unforgettable night filled with music that keeps them grooving, forging connections, and packing the dance floor from start to finish.
The Maestro of Musical Connection
DJ Colin stands as a testament to the transcendent power of music to bring people together. With a lifetime of devotion to the art of sound, he continues to orchestrate unforgettable nights where music becomes the thread that binds individuals into a unified tapestry of celebration. Join him on his musical journey and experience the magic of DJ Colin firsthand.